13 juin 2008
J'ai eu la chance un jour, au bord du lac Léman, de rencontrer Georgette Popa.
Cette femme charismatique, passionnante, a su me transmettre l'enthousiasme qu'elle déploie lorsqu'elle parle de ses "kids" et de la musique en général, du violon en particulier.

Sans même les connaître, sans avoir entendu une seule note, j'ai eu envie d'aider Georgette dans son entreprise et de faciliter la venue de ces musiciens prodiges. Je ne doute pas qu'une telle expérience sera un évènement marquant dans leur vie, tant professionnelle que personnelle, et il m'est agréable d'imaginer que j'y aurai ma, toute petite, part.

Bienvenue à vous, merci de nous transmettre un peu de votre passion. Soyez sûrs que nous vous en sommes reconnaissants.

N'hésitez pas, vous qui venez lire ces pages, à laisser un commentaire. Il suffit de cliquer en bas des messages, sur [commentaires].

Bonne lecture.
Remlug.
---

I had the chance one day, to meet Georgette Popa on the lake geneva shoreline (no, it was not in Montreux, and we don't call it "lake geneva" but "lake Léman", its real name).
This charismatic woman, enthralling, knew how to transmit to me the enthusiasm she deploys when she speaks about her "kids" and about the music in general, or the violin in particular.

Without knowing them, without having heard a single note, I wanted to help Georgette in her enterprise and to facilitate the arrival of these wonderfull musicians. I do not doubt that such an experiment will be an big event in their life, as well professional as personal, and it is pleasant for me to imagine that I will have there my, very small, share.

Welcome to you, thank you to transmit to us a bit of your passion. Be sure that we are grateful to you.

Do not hesitate, who come to read these pages, to leave a comment. You just have, on the bottom of the messages, to click on [commentaires] (comments).
The next screen will ask you to fill your name or pseudo, your email address, an optionnal website adress, the title of your comment and the comment itself.
Then you can click on [Envoyer] to send it…
By the way... Please apologize the poor translation, I'm not so fluent in english...
Good reading
Remlug.
14 juin 2008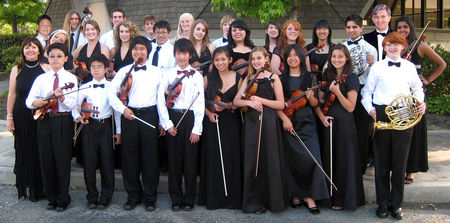 L'orchestre de chambre classique des joueurs d'Irvine a été fondé par le professeur Georgette Popa pour offrir à ses étudiants, violonistes exceptionnels, l'occasion d'apprendre et de jouer le répertoire de musique de chambre.
La mission du Irvine Classical Players Orchestra est de fournir à chacun de ses membres l'occasion unique de jouer en tant que soliste dans un ensemble orchestral. Dans une tentative d'assumer le plus haut niveau du sens musical et de l'exécution, tant qu'ils sont membres de l'orchestre, les étudiants ont la chance de participer aux travaux et aux masterclasses des solistes et des pédagogues les plus renommés.
Fondé en 2003, l'ensemble inclut des étudiants d'un certain nombre des les meilleures écoles de musique privés en Californie du Sud.
L'âge moyen de ces jeunes musiciens est de 14 ans et leur provenance reflète la riche diversité culturelle de cette région.
La première tournée de l'orchestre, en été 2004, a inclut des concerts dans les régions de Bretagne et de Normandie, dans des endroits historiques tels que l'abbaye de Léon, la ville forteresse de saint Malo et le mémorial de la paix à Caen.
Le point culminant des concerts français a été celui donné dans l'abbaye bénédictine de Saint Michel du Mont fondée en 1021. Plus tard, en 2006, les artistes classiques d'Irvine ont été invités à jouer dans le festival de musique international d'été à Florence, Italie.
La tournée italienne a permis des concerts à la Chiesa del Redentore à Venise, à la Chiesa San Francesco à Trève (Trevi) et dans la belle église Chiesa Valdese de Rome.
Le Irvine Classical Players Orchestra est heureux d'annoncer sa troisième tournée internationale de concerts en France, à Paris, Vézelay, Lyon et en Arles.
Le répertoire proposera entre autres un morceau orchestral composé spécialement pour l'orchestre par Alan Menton : The Hedgehog Hustle (Le hérisson pressé).
Irvine Classical Players Chamber Orchestra was founded by Professor Georgette Popa to offer her outstanding violin students the opportunity to learn and perform the chamber music repertoire.
The mission of the Irvine Classical Players Orchestra is to provide each of its members with the unique opportunity to perform as soloists in an orchestral setting.
In an attempt to assume the highest level of musicianship and performance while the students are members of the orchestra, they have the chance to participate in sectionals and master classes with world-renowned soloists and pedagogues.
The ensemble includes students from a number of the finest private music studios in Southern California.
Founded in 2003, the orchestra's first concert tour in the Summer of 2004 included concerts in the Brittany and Normandy regions of France at such historic places as L'Abbeye de Lehon, the Fortress City of Saint Malo and Peace Memorial in Caen.
The highlight of the French Concert Tour was the concert at the Mont Saint Michel Benedictine Abbey founded in 1021. Subsequently in 2006 the Irvine Classical Players was invited to perform in the International Summer Music Festival in Florence, Italy.
The Italy Concert Tour included performances at the Chiesa del Redentore in Venice, Chiesa San Francesco in Trevi and the beautiful Chiesa Valdese in Rome.
The Irvine Classical players are pleased to announce their third International Concert Tour to France, which will include concerts in Paris, Vezelay, Lyon and Arles.
The repertoire for the upcoming France Concert Tour includes: Wolfgang Amadeus Mozart: Violin Concerto No.4,Haydn Cello Concerto in C Major, Haydn Violin concerto in G major, Preludium and Allegro for violin by Kreisler-Matsuura, Battalia by Biber, Andante Festivo by J. Sibelius, and an orchestral piece composed specially for Irvine Classical Players, The Hedeghog Hustle, composed by Alan Menton.
The average age of the young musicians of the Irvine Classical Players is 14 and the membership reflects the rich cultural diversity of Southern California.
Le fondateur et directeur musical de l'orchestre a créé une école de violon privée à Irvine, Californie, pendant 24 ans et est un ancien professeur de violon au conservatoire supérieur de la musique à Lyon, France.
Elle a enseigné le violon à l'université de Californie à Irvine, à l'université de Saddleback, université de l'Etat de la Californie, et à l'université de Fullerton et de Concordia. Sa carrière d'enseignante inclut de nombreuses masterclasses internationales en France, en Suisse, en Allemagne et en Hollande.
Parallèlement elle a joué de un grand nombre de concerts, en Europe et aux États-Unis. Sa carrière de violoniste de concert comprend également de nombreux enregistrements en studio pour le film et la télévision.
Elle détient une maîtrise d'exécution du conservatoire de la musique G.Dima, Cluj-Napoca, Roumanie, et a accompli un doctorat (PhD) de trois ans au conservatoire de la musique de Paris, France.
Irvine Classical Players Orchestra Founder and Music Director Georgette Popa has maintained a private violin studio in Irvine, California for 24 years and is a former professor of violin at the Superior Conservatory of Music in Lyon France. She has taught violin for the University of California at Irvine, Saddleback College, California State University at Fullerton and Concordia University. Her teaching career includes numerous requests for international master classes in France, Switzerland, Germany and Holland.
In addition to her teaching credits she has performed extensively in Europe and the United States.
Her active performance career has included numerous studio recordings for film and television.
She holds a Masters Degree in Performance from the Conservatory of Music G. Dima in Cluj- Napoca, Romania and completed a three-year PhD. program at the Conservatory of Music in Paris, France.
Chef d'orchestre, enseignant, Mark est professeur agrégé de musique à l'université d'État de Wichita, où il a reçu la distinction de Professeur Emérite de la faculté Ann Walenta. En 2007, il a été honoré par un « Excellence in Teaching Award » de l'université des beaux-arts d'Irvine.
En plus de sa fonction de chef d'orchestre, il est coordonnateur de la conduite instrumentale. Sous sa direction, l'orchestre symphonique de WSU a joué au festival international 2008 des orchestres de la jeunesse à Zaragoza, Espagne.
Son travail couvre 16 états, y compris la conduite des orchestres d'État, en Alabama, en Iowa, au Nébraska, et à Washington. Ses prochains engagements concernent l'orchestre symphonique de Wichita, ainsi qu'un grand nombre d'orchestres d'État du Maryland, de l'Oklahoma, du Kansas et du Nebraska. Il a conduit des orchestres professionnels en Europe et au Canada. Il fut également le chef d'orchestre principal des joueurs d'Irvine, menant l'orchestre pendant la tournée de deux semaines en Italie en juin 2006.
Le Dr. Laycock détient un doctorat de conduite orchestrale, une maîtrise de musique dans la conduite instrumentale et une licence d'arts dans l'histoire de la musique et de la littérature.
Conductor/Educator
Dr. Mark Laycock is an Associate Professor of Music at Wichita State University, where he holds the Ann Walenta Faculty of Distinction Endowed Professorship. In 2007, he was recognized with the College of Fine Arts Excellence in Teaching Award. In addition to serving as Director of Orchestras, he is Coordinator of Instrumental Conducting. Under his direction, the WSU Symphony Orchestra performed at the 2008 International Festival of Youth Orchestras in Zaragoza, Spain, as well as the 2008 Kansas Music Educators Association In-Service Workshop.

His work as guest conductor, clinician, and adjudicator spans 16 states, including the leadership of all-state orchestras in Alabama, Iowa, Nebraska, and Washington; upcoming engagements include the Wichita Symphony Orchestra, Maryland All-State Orchestra, Oklahoma Youth Orchestra, Kansas Junior High State Orchestra, Northeast Kansas Ninth Grade Honor Orchestra, and Hastings (NE) College High School Honor Festival.

He has conducted professional orchestras in Europe and Canada. Dr. Laycock recently presented clinic sessions for the Kansas Chapter of the American String Teachers Association, the Oklahoma Music Educators Association, the Arizona Music Educators Association, and the Midwest Clinic. He served as Director of Orchestras and Instrumental Music at Chapman University in Orange, California, where he led invited performances for the California Music Educators Association and at Disneyland. He was also Principal Conductor of the Irvine (CA) Chamber Players, leading the youth orchestra on a two-week concert tour to Italy in June 2006.

From 1998-2003, Dr. Laycock served as Director of Orchestral Activities at Iowa State University and was Music Director of the Central Iowa Symphony. Under his leadership, the ISU Symphony Orchestra performed at the North Central Division Convention of the Music Educators National Association and collaborated with such artists as bass-baritone Simon Estes and pianist-composer Marvin Hamlisch.

He earned a Doctor of Arts degree in orchestral conducting from the University of Northern Colorado. Dr. Laycock holds a Master of Music degree in instrumental conducting from the University of Nebraska-Lincoln and a Bachelor of Arts degree in music history and literature from the University of Southern California. An experienced educator, he was an instructor of strings and orchestra at the middle and high school levels in the Clark County School District in Las Vegas, Nevada.
Cliquez sur l'image pour l'ouvrir en grand...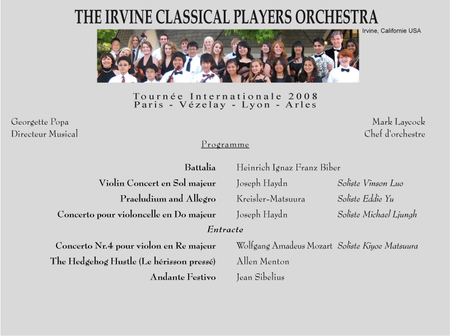 Click on the picture to enlarge

1. PARIS
Concert: Samedi 5 Juillet - 21 h

Église Roumaine de Paris
9bis, rue Jean de Beauvais - Paris 5e
2. Saint Père sous Vézelay

Concert: Dimanche 6 juillet - 20h30

Église Notre Dame
Rue de la Mairie
Annonce du concert sur le site web de Saint-Père sous Vézelay
3. Lyon
Concert: Mercredi 9 juillet - 20h30
Basilique Notre Dame de Fourvière
8 Place de Fourvière
Attention, en raison des "Nuits de Fourvière", il est fortement recommandé de se garer parking St Georges ou Gorge de Loup puis de prendre le funiculaire.
4. Arles
Concert: Vendredi 11 juillet - 20h30
Église Saint-Trophime
Place de la République